NEW Puppy Play Gear :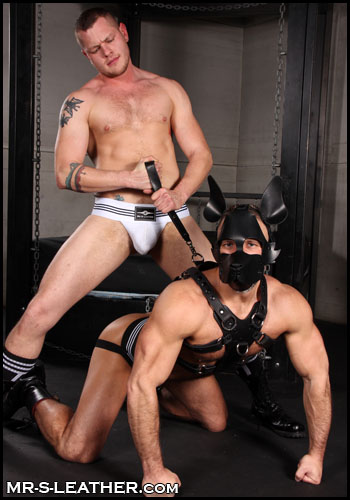 Pitbull Harness : http://www.mr-s-leather.com/H019/pitbull-harness.html
This one's for those boys with the big barrel chests- you know, the pitbulls. Thick base plates on the front and back give you a Roman Gladiator look. The chest straps perfectly contour your pecs making everything pop just like it should. D-rings on the front and the back are perfect for pulling that boy close or attaching a leash for those wild pittys who can't be trusted. A great new design from the leather department here at Mr. S Leather. When taking measurements we suggest having someone else do this for you in order to ensure accuracy.  
Price: $159.95
_______
Woof Plug – http://www.mr-s-leather.com/D057/woof-plug.html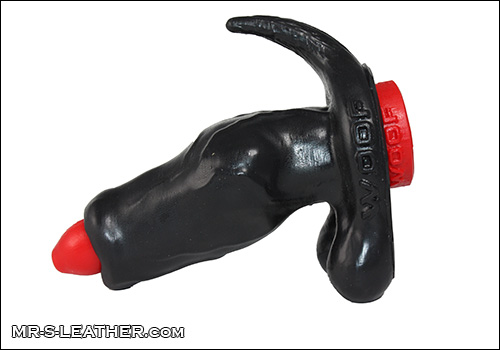 Another sick and twisted design from Oxballs. This bad boy will turn you into the dirty dog that we know you are. This hollow hole plug has a removable solid core so slipping this into that hungry puppy hole is easy. Once it's locked in place, remove the core and use that open hole however you damn well please. Perfect for lubing that boy up nice and deep. Or shove your cock in and give him that rough fuck he has been begging for. He'll be whimpering with every rough thrust yo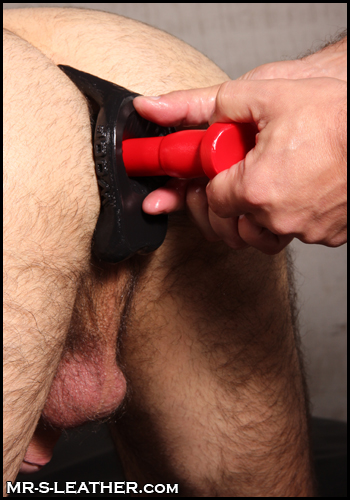 u give him. Made from 100% Platinum Cure Silicone so you can use whatever lube you want and clean-up is a cinch. Make your boy woof louder than he ever has before! Watch Free Video of Woof Plug in Action! – http://www.mr-s-leather.com/D057/woof-plug.html#videos Plug: Overall Length: 5 ½ inches Insertable Length: 5 inches Smallest Circumference: 5 ½ inches Largest Circumference: 7 ½ inches Inside Circumeference: approximately 4 inches Rod: Overall Length: 7 inches Insertable Length: 6 inches Circumference: 4 inches
Price: $99.95
________
United Puppy Butcher Tank CellBlock 13 – http://www.mr-s-leather.com/LR346/united-puppy-butcher-tank.html
This super lightweight butcher tank is going to help you get through a long, hot summer. Puppy badge sits perfectly on the left pec. Huge puppy flag on the back shows everyone you're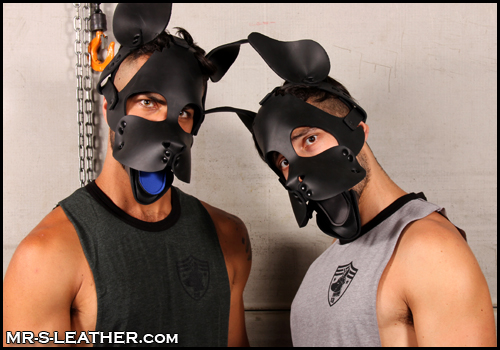 proud to be a pup. Cut nice and low to really show off your body.
30% Rayon, 35% Cotton, 35% Polyester
Price: $26.95
_______
Puppy Mitts with Paw Pads – http://www.mr-s-leather.com/SL038/puppy-mitts.html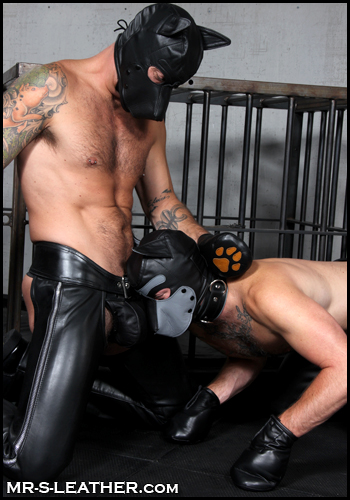 AWWWROOOF! Just in from the Mr. S Puppy Department- Leather Puppy Mitts. When it comes to puppy gear we don't mess around. These mitts have been puppy tested and puppy approved! The last thing we want is an angry puppy on our hands. In fact, our very own resident puppy has given these mitts his seal of approval. These mitts are double padded to make standing and walking super comfortable. There's no need to take a break from the puppy pit due to tired paws anymore. A Velcro and snap closure means you can get these on and off quickly and they will stay put no matter how excited you get. We even included paws so you can really get into puppy headspace. Make sure you check out our Leather Puppy Hood (HT232) which has coloring to perfectly match these Puppy Mitts. Here's a few things you should know about wearing these: 1. The first time you put these on they might feel a little tight. But after wearing them for a bit the padding will settle and shape to your fist. They'll become yours!!! 2. The right paw will have the Velcro/snap closure on the left while the left paw will have the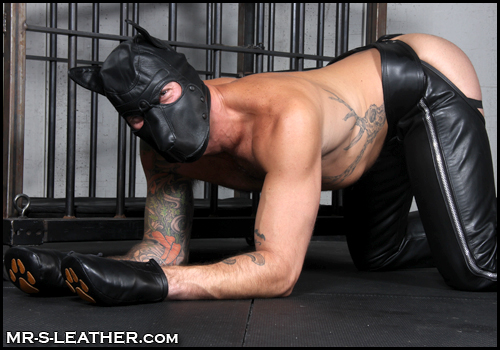 same closure on the right. When worn correctly this closure will be on the top of your hand. 3. It's important to NEVER place your thumb inside your fist when wearing these. We've designed these so there is a little space to the side to house your thumb safely and comfortably. Now go out there and get in the puppy pile!!!
_______
Puppy Tails:
Puppy Tail
Red, Blue, White, Yellow – Square Peg – http://www.mr-s-leather.com/D472/puppy-tail.html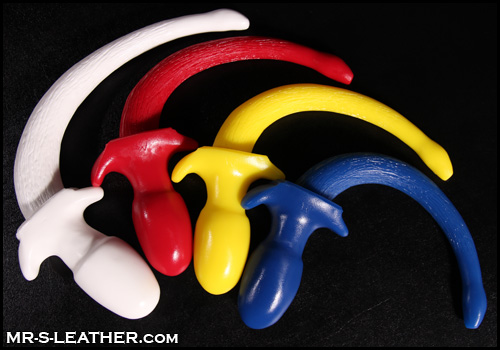 The best tail in the world just got a little better! Puppies around the world are wagging and barking in excitement. SquarePeg, the creator of the original puppy tail, has made puppy dreams come true- puppy tails in colors! Until now, your only option was black. Now you get to choose from red, yellow, blue or white as well. We know there'll be a lot of huskies out there are pawing for the white tail. This is the fourth iteration of the puppy tail and with each update SquarePeg takes pup feedback to further enhance the product (the most researched toy in the extensive SquarePeg line). This version is no different. You told him you wanted a plug that stayed in better and that had better wag-ability. Now you've got it. The plug portion has a slight ridge that helps keep the plug in even better. He's also added a flair to the tip of the tail to help make it the bounciest tail SquarePeg has ever released! Show him what a happy pup you are and start wagging.
Why is the SqaurePeg Puppy Tail still the best on the market? The tails are produced in a cold cast process that allows for precision molding. This means they can be reliably duplicated with all the different design elements that make this tail really work as it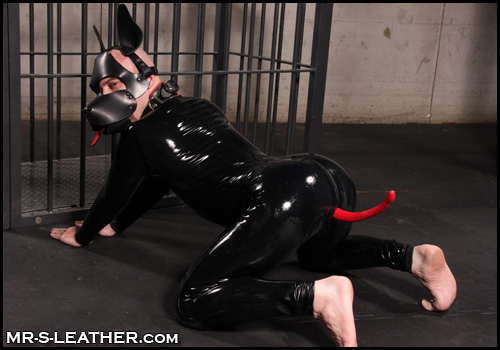 should. Hot melt rubbers and vinyls can't and don't. Also, when considering the safety of long term wear, only silicone is free of any plasticizers or other chemicals. Silicone naturally provides the right amount of bounce and weight to make the most realistic wag- other rubbers are too stiff and brittle. They are produced with seamless construction so they don't cut or irritate your hole. Super comfortable egg shape and narrow "anvil" tip for comfort and to allow you to wag your tail without moving but rather by simply squeezing your hole. Perfectly proportioned tail for maximum bounce and responsiveness.
Available in two sizes.
Medium: Plug Circ 5 3/4″ • Tail 10″
Large: Plug Circ 6 1/2″ • Tail 12″
__________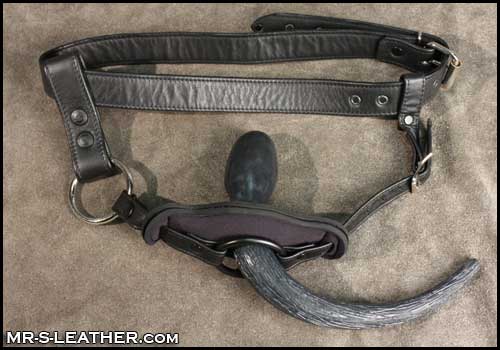 The Puppy Tail Adaptor (use w/Butt Plug Harness) – http://www.mr-s-leather.com/D480/the-puppy-tail-adaptor.html
Make sure that tail stays put with our new Puppy Tail Adaptor… it fits right into our Butt Plug Harness and keeps your tail firmly in place. If you have a non-locking harness, this will snap right in or buy a new harness with the adaptor and save.
Reviews:
Anonymous in Sep 2010 My master bought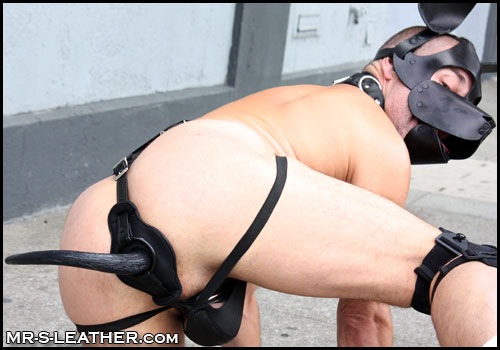 this for me and boy is it amazing! The very sight of it for the first time gave me a huge hard on, and it took 10 whole minutes to get my cock and balls through the cock ring (wish it was a little larger, however master says my balls just need stretching), then it was pretty easy from there. This is the best product to keep your puppy in line, highly recommend it!
Anonymous in Sep 2010 It's WOOFTACULAR! wag wag wag
_______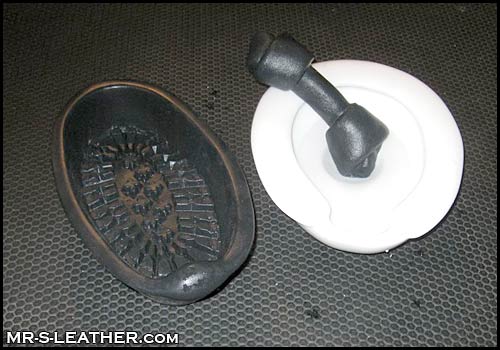 Toilet Bowl Dog Dish – http://www.mr-s-leather.com/D440/toilet-bowl-dog-dish.html
Pure premium silicone Dog Dish/Toilet Bowl – so white it appears to be made of ceramic at first glance. The shape of the bowl is oval, making easy for a man-pup to really get his face down in there. There's a small 'well' at the center, so any liquid in the bowl collects there, making it easy for a human tongue to lap it all up.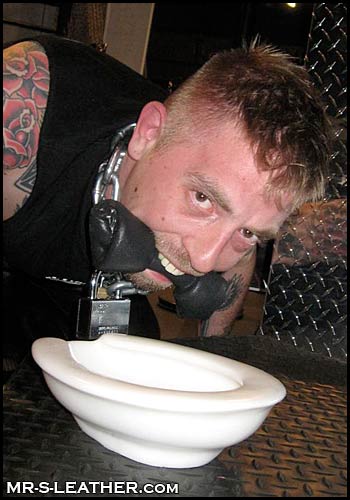 Overall Measurement 9.5″ x 8″ x 3″
Cast as one solid piece of silicone, these high quality toys contain no layers or joints to crack or peel – ever. Vacuum formed to eliminate air bubbles that might weaken a toy's integrity. Made to be sterilized, silicone is the only rubber that will not melt or deteriorate from the effects of heat or moisture, so they won't shrink, melt or dry up like latex or vinyl toys. Also, silicone does not contain plasticizers or harmful phthalate softeners. rSquarePeg toys are safe to use with any water-based lube, oil and grease. No other toys can match their durability, and though slightly more expensive than their latex or vinyl counterparts, with a minimum of care these toys will continue to deliver year after year.
_______
Pup Hankies – http://www.mr-s-leather.com/MISC207/pup-hankies.html
Cotton Hankies. Specify color you wear when ordering.
Just a fun way to flag your colors the puppy way. Fuck me, fist me, piss all over me — just do it to me while I'm on all fours. From whimper whimper whimper to woof woof woof!
Approx. 22″ square.
Please specify color below – if you don't, we'll pick for you; and who knows what that might lead to.
_______
Cleaning that Puppy Hole :
Shower Shot: Complete Douche Set : http://www.mr-s-leather.com/MISC400/shower-shot-complete-douche-set.html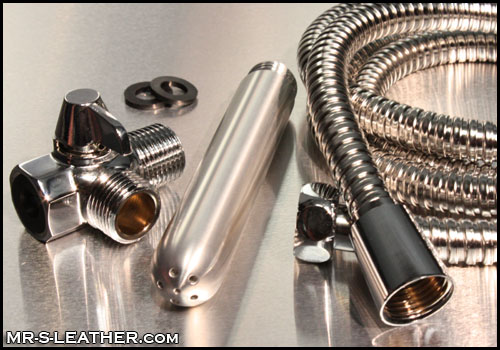 The Mr. S Shower Shot is one of the best and easiest ways to clean out your butt before playing. Attaches easily to the pipe behind your shower head and hangs down for easy access. It has a 6 foot hose that then attaches to a nozzle. You can adjust the flow of the stream of water shootin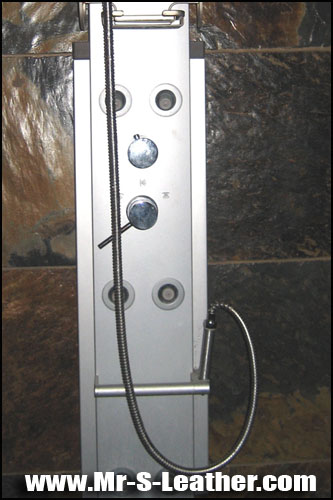 g up your butt by turning the small diverter valve. Wide open, full force is not recommended but getting the water temperature right before inserting the nozzle is highly recommended. Besides cleaning out your butt before having sex for hygienic reasons, an occasional enema is also good for your own personal health. The Mr. S Shower Shot is recommended by 10 out of 10 Butt Enthusiasts for a squeaky clean fuck. (NOTE: Installs to American standard 3/4″ thread) (NOTE: Installs to American standard 3/4″ thread)
Regular Price: $49.95 Special Price: $39.95
____________
Ergo Speed Douche – http://www.mr-s-leather.com/M120/ergo-speed-douche.html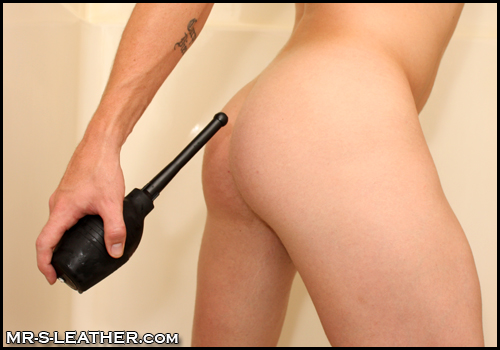 It's all about the flow. Get the max amount of output with a simple squeeze of the bulb. The Ergo Speed Douche makes it easy to clean. The nozzle tip has four holes that diffuse the stream giving you the most out of each squeeze. This douche does more than simply fill your hole with water- the four way spray actually gives you a rinse.
The 6" nozzle flexes to slip easily into your hole. And, because the nozzle screws and 'locks' into the bulb, you don't have to worry about twisting the wrong way and ending up with a hard plastic tube stuck up your ass… come on guys, a lot of us have been there.
The one way air valve on the bottom of the bulb prevents backflow of water back into the bulb. The bulb on the Ergo Speed Douche holds 10 ounces of water.
Compact design means this douche kit is perfect for travel and can be stashed discretely under the sink when you're not using it.
Nozzle – Made from phthalate free TPR.
Bulb – Made from Medical Grade/Phthalate free PVC