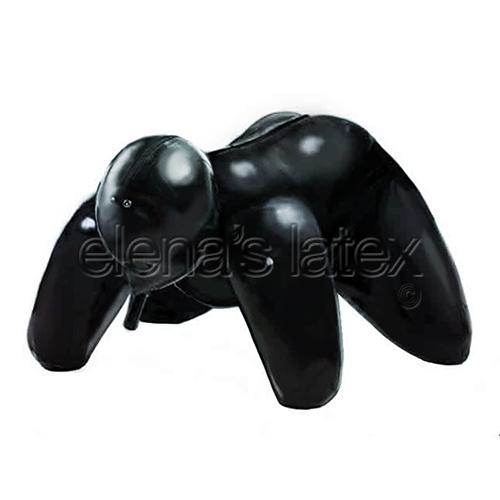 NOW ALSO AVAILABLE AS INFLATABLE
This Latex Dog Suit is the the perfect way to spend a quiet evening (for your partner, that is).  Once inside, this inescapable dog suit holds many hours of fun and delight for all those involved.   It is crafted to Elenas very high quality, in a choice of 0.4, 0.5 or 0.6mm latex (for those wild dogs that need extra training).  The variety of sizes means a fit to everyone.  This suit also includes our MA47 mask which can be attached or left off the suit – for your partner to decide. The suit has a rear entry 3 slider zip & a front crotch zip.
Did anyone say walkies?
____________________
NEW! Latex Dog Suit Design

Our New Design Latex Dog Suit has been designed for both comfort and practical use. The suit has a 3 slider rear entry zip that runs through to the front. It also has Leg & arm zips for ease of dressing. It is available  in a choice of 0.4, 0.5 or 0.6mm latex & tthe mask can be attached if required.